Pulp Mill Operator
Opérations manufacturières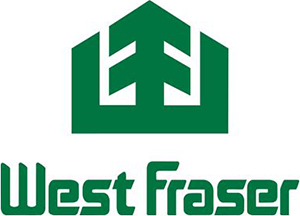 Date de publication : 19 février 2023
Lieu d'emploi : Hinton
Type d'emploi : Alternance travail-études
Début : Immédiatement
Descriptions d'emploi
West Fraser is a leading forest products company in
North America. Recognized for the tenth time as one of
Canada's Top 100 Employers, we continue to grow. Our goals are
straightforward – excellence in people, responsibility in
communities where we live, challenge, and growth.
Our Hinton Pulp Division is seeking individuals
with strong technical and interpersonal skills to fill the
following positions:
PULP MILL
OPERATOR
Successful applicants will be assigned to one of four
departments based on organizational requirements and job vacancies:
the Fibreline, Pulp Machine, Lignin Recovery Plant, or Power &
Recovery. All departments are critical to mill production. Duties
in these departments are similar, and include departmental
tours/testing rounds, working with console operators to
troubleshoot in the field, actively participating in our safety
culture, and basic housekeeping.
We offer:
A rewarding opportunity to utilize and grow your technical and
mechanical skills;
A long term, stable career
Training and advancement opportunities
An attractive four on/four off shift schedule
Competitive wages, benefits package and defined benefit pension
plan
Requirements
Applicants must have a Grade 12 Diploma (or GED) from a
recognized institution, a valid class 5 driver's license, and have
reached the age of legal majority in Alberta;
and
Successful completion of two of the following three subjects:
Chemistry 20, Math 20-2, or Physics 20, OR post-secondary
completion of equivalent courses; OR
A 4th Class Power Engineering certificate.
Preference will be given to applicants with a Power
Engineering certificate.
As part of the recruitment process,
applicants must submit proof of educational requirements
(i.e. certificates, transcripts) along with their resume.
Incomplete applications will not be considered.
Our employees drive our success. We believe in providing
opportunities for growth and advancement and are looking for
someone who wants to build their career in our company. In addition
to competitive wages and benefits, Hinton Pulp offers a stable,
rewarding career.
We are located in Hinton, Alberta, 20 minutes east of Jasper
National Park, and 2½ hours west of Edmonton. Hinton,
set amidst the stunning scenery of the Alberta Rockies, is a modern
community of 10,000 offering terrific lifestyles for individuals
and families.
Our region is an outdoor enthusiast's paradise, with exciting
activities from skiing, snowmobiling, camping, hiking, fishing,
hunting, and ATV's. Hinton features a full-service acute care
hospital, major retail and restaurant chains, community parks and
pools, educational institutions for pre-school through
post-secondary. To learn more, visit the Town of Hinton Web
site: www.hinton.ca.
Interested applicants should apply online by sending their
resume, cover letter, and transcripts/proof of qualifications in
confidence. To apply, click on our job ad at
www.westfraser.com/jobs and then click "apply now" at the top of
the page.
West Fraser believes inclusive, diverse teams build a more
vibrant workforce, safer operations and a stronger company overall.
We strive to create workplaces and leadership teams that are
reflective of the diverse communities we are a part of. We will not
discriminate against any applicant for employment on the basis of
race, gender, national origin or any other protected legal
characteristic.
We thank all candidates for their interest; however, only those
selected for an interview will be contacted. No phone enquiries
please.
Conditions d'emploi
Expérience minimum : 0 à 1 an
Niveau d'éducation minimum : 12e année ou l'équivalent
Langue : Anglais