POURQUOI TRAVAILLER ICI?
Une bonne rémunération et des avantages sociaux, un large éventail de cheminements de carrière, des occasions d'apprendre en cours d'emploi – tout cela en plus des plaisirs de la vie dans une communauté soudée et abordable avec la nature à votre portée.
Voici ce à quoi vous pouvez vous attendre si vous rejoignez la main-d'œuvre la plus verte.
Plus de logements abordables
La plupart des emplois forestiers se trouvent dans les petites communautés où les coûts de logement sont beaucoup moins élevés que dans les grandes zones urbaines du Canada. Dans les communautés forestières, votre argent va beaucoup plus loin.
Moins de temps de trajet
Vous en avez assez des heures consacrées, pris dans la circulation? Dans une communauté forestière, les heures que vous économiserez en aller-retour sont des heures supplémentaires pour vous et votre famille.
Fierté de ce que vous faites
L'industrie forestière canadienne est reconnue comme un chef de file mondial en matière de gestion durable des forêts et la lutte contre les changements climatiques. Votre travail fera une différence.
Trouvez l'emploi de vos rêves maintenant
OSEZ COMPARER
See how much you could save if you lived and worked in a forest community.
BLOG DU STAGE DU RÊVE
Stagiaires sur leurs aventures dans l'industrie forestière.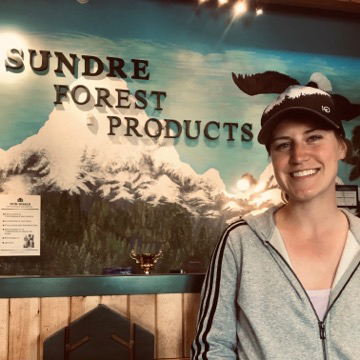 Par Gabriel Higney le 27 August 2019
Hey everyone,
For this post I'll be sharing what I've been up to since the tree planters arrived on July 14th, 2019. Our last day of planting was August 7th, 2019.
I am a summer student for Sundre Forest Products, but my position is specific to silviculture (the growing and cultivation of trees).
...
Voir l'article