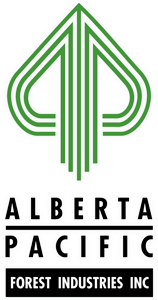 Alberta-Pacific Forest Industries Inc.



Alberta-Pacific is a world leader in the forest industry, using today's best technology to produce Elemental Chlorine-Free (ECF) kraft pulp while keeping far below limits for emissions. They also practice some of the world's most innovative forest management approaches, such as ecosystem management, looking beyond the trees to the forest as a whole in order to maintain biodiversity.
---
LOCATIONS
Canada
69667 Vancouver
Suite 300, 1199 West Hastings Street
Vancouver, British Columbia
V6E 3T5
(604) 669-4111
Website: alpac.ca
sales@alpac.ca
69666 Edmonton
132120 St. Albert Trail
Edmonton, Alberta
T5L 4W1
(780) 495-1220
Website: alpac.ca
info@alpac.ca
---
Company History
Construction began in April 1991, and after more than 3,200 skilled workers lent Alberta-Pacific their skills and labour, the mill began producing pulp in September 1993 under the ownership of Crestbrook Forest Industries, Mitsubishi Corporation and Kanzaki Paper (later acquired by Oji Paper Company Ltd.). Alberta-Pacific quickly established itself as one of the leading producers of high quality kraft pulp, while also demonstrating environmental excellence in all aspects of its operation.
After acquiring Crestbrook's shares in 1998, the private company became solely owned by Mitsubishi Corporation (70%) and Oji Paper (30%).
Adopting a Continuous Improvement philosophy, team members then set to work finding greater efficiencies. This focus would help increase production from a daily capacity of 1,500 air-dried metric tonnes (ADMt) per day design capacity to 1,922 ADMt per day by 2004 and in 2005 AlPac would become certified to the Forest Stewardship Certification (FSC®) Northern Boreal Standard. In 2006 the company's self-sufficient mill design and several carbon reduction initiatives helped the company to obtain carbon neutrality.
In 2011, the company along with funding from the Government of Canada's Pulp and Paper Green Transformation Fund, installed a new transmission line, transformer site, steam condensing turbine and generator to enable greater export of renewable energy to the regional power grid. It also announced a methanol purification project to help utilize a by-product of the pulping process to produce bio methanol, helping to reduce costs and create a new green product for the marketplace.
In 2015, Alberta-Pacific became part of a growing network of global companies when it was acquired by Hokuetsu Kishu Paper Co. LTD. The Tokyo-based company is the second largest fine paper manufacturing company in Japan. Products mainly include printing and specialty paper products and paperboard.
Company Facts
People – Alberta-Pacific is comprised of over 390 team members who are committed to helping the company and each other achieve success. The founders of the company established a program of self-managed work teams to ensure an effective, quality-conscious work force. With continuous improvement in mind, teams of 6-15 people work together to develop innovative ideas that result in environmental, efficiency, quality and safety benefits.
Vision – By 2019, Al-Pac is cost competitive, sustainable and remains a progressive and innovative company
We will demonstrate this by:
Ensuring our overall costs are meeting targets
Being recognized as environmentally responsible
Working with our aboriginal communities and neighbors
Having strategically expanded our customer base
Being recognized as a quality pulp supplier
Ensuring team members feel valued and enjoy working at Al-Pac
Capitalizing on revenue opportunities
Adopting innovative technologies and processes
Values – At Al-Pac, we emphasize the following values:
Focus on Excellence
Teamwork
Learning / Innovation
Ethical Behaviours
Accountability