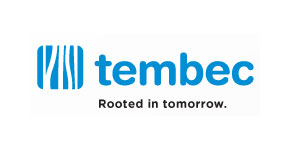 Tembec Inc.



Tembec is a manufacturer of forest products – lumber, pulp, paper and specialty cellulose – and a global leader in sustainable forest management practices.
Principal operations are in Canada and France. With annual sales of approximately $2 billion, Tembec has 4,000 employees and is listed on the TSX (TMB)..
---
LOCATIONS
Canada
67540 Chapleau
Planner Rd
Chapleau, Ontario
P0M 1K0
(705) 864-1538
Website: www.tembec.com

67580 La Sarre
225 9 Ave E
La Sarre, Quebec
J9Z 2M6
(819) 333-3858
Website: www.tembec.com

67541 Cochrane
17th Ave
Cochrane, Ontario
P0L 1C0
(705) 272-4321
Website: www.tembec.com

67581 Bearn
67 Rue Principale S
Bearn, Quebec
J0Z 1G0
(819) 726-2621
Website: www.tembec.com

67542 Timmins
Hwy 101
Timmins, Ontario
P4N 7H9
(705) 268-1462
Website: www.tembec.com

67582 Senneterre
250 Chemin de la Normick
Senneterre, Quebec
J0Y 2M0
(819) 737-2336
Website: www.tembec.com

67543 Kirkland Lake

Kirkland Lake, Ontario
P2N 3H6
(705) 642-3217
Website: www.tembec.com

67544 Huntsville
80 Old North Rd
Huntsville, Ontario
P1H 2J4
(705) 789-2372
Website: www.tembec.com

67560 Temiskaming
33 Chemin Kipawa
Temiskaming, Quebec
J0Z 3R0
(819) 627-3321
Website: www.tembec.com

67561 Longueuil
2525 Rue Jean Désy
Longueuil, Quebec
J4G 1G6
(450) 928-3688
Website: www.tembec.com

67539 Kapuskasing
1 Government Rd
Kapuskasing, Ontario
P5N 2Y2
(705) 337-1311
Website: www.tembec.com

67562 Matane
400 Rue du Port
Matane, Quebec
G4W 3M6

Website: www.tembec.com

67532 Head Office
405 The West Mall, Suite 800
Toronto, Ontario
M9C 5J1
416 775-2806
Website: www.tembec.com

67538 Hearst
67 Fontaine D
Hearst, Ontario
P0L 1N0
(705) 362-4227
Website: www.tembec.com

---
Company History
Milestones
1970s – 80s
Tembec is formed in 1972 and acquires the shuttered Temiscaming, Québec pulp mill from a large multinational in 1973.
Tembec goes public in 1979.
Tembec builds a high-yield pulp mill at the Temiscaming site in 1984.
Tembec diversifies into lumber, making the first of many sawmill acquisitions in Béarn, Québec, in 1986.
Temiscaming site begins to manufacture coated bleached board in 1989, sold under the Kallima brand.
1990s
Tembec acquires mills and related operations in Ontario, Québec, B.C. and the U.S. throughout the 90s.
Tembec is recognized by the Rainforest Alliance as a Corporate Sustainable Standard Setter in 1994.
Tembec goes global, acquiring 50% of the Tartas, France mill in 1994, and becomes full owner in 1999.
2000s
Tembec is the first public company in Canada to make the commitment to use standards developed by the internationally recognized Forest Stewardship Council® (FSC®) and seek certification on all its forestlands, in 2001.
Tembec is awarded FSC certification for nearly three million acres of the forest it manages in 2005.
President and CEO James Lopez takes the helm in 2006.
Tembec receives prestigious FSC Winds of Change Award in 2007.
Tembec begins major restructuring in 2007 and completes recapitalization process in 2008.
Tembec achieves FSC forest management certification on its directly managed forestlands as well as Chain of Custody Certification in 2008 (COC guarantees a product with the FSC label can be tracked back to an FSC certified source).
Tembec begins to reshape itself by divesting non-core assets in 2008-2009 period.
2010s
Tembec continues to divest non-core assets, and focus on its core lumber, pulp, paper and specialty cellulose businesses.
Tembec announces a capital investment plan exceeding half a billion dollars, focused on green energy projects and cost and productivity improvements, in late 2011.
Tembec introduces a new brand image, logo and slogan – Rooted in tomorrow – in 2012.
Tembec begins a major green electricity investment project in 2012 designed to make Temiscaming one of our industry's lowest-cost manufacturing facilities.
Tembec's new $273 million green electricity facility at Temiscaming – the largest project in our industry in 15 years – began generating power in 2015.
Company Facts
Tembec Inc. is a paper company in Canada. Tembec has approximately 6000 employees located in Canada, United States, and France. Tembec's operating divisions include Forest Products, Pulp, Paper & Paperboard, and Chemicals.
The Forest Products Group comprises 31 manufacturing operations producing softwood lumber, engineered wood products, and specialty wood products. The Pulp, Paper & Paperboard Group consists of 9 pulp manufacturing plants, 5 paper manufacturing plants and 1 paperboard plant. The Chemicals group produces resins, ethanol and lignin from the pulping discharge in five of its pulping plants.
Products
Sawmill/Lumber
Other Forest Products : e.g. lignin, cellulose filaments, nanocrystalline cellulose, wood-derived bioethanol, etc.