July 17, 2017 1:54 pm Published by Melanie Flack 3 Comments
Before starting this post, I would like to address the terrible forest fires that have broken out in central British Columbia. There are so many amazing individuals from across Canada who have relocated to help fight the fires and assist in evacuations and keeping people safe. This is a devastating time for those losing their homes and land but an amazing demonstration of how Canadians band together for support.
---
It's hard to believe two weeks have passed already! Time seems to fly in the summer no matter where you live, but particularly where the days are longer. During the summers in Fort St. John, the sun rises around 4:15am and doesn't set until after 10pm, which is very strange compared to the length of the days in Nova Scotia. Sunshine at 3:30am definitely took some getting used to for me! Another interesting thing about Fort St. John is the fact that it does not follow daylight savings time, this means that during the summer the time difference between here and home is four hours, while in the winter it's only three. Weird. Anyway, I would like to write a little bit about Canfor in this post and how I feel that it is a company to believe in.
Canfor
I have always considered myself to be someone that has strong values when it comes to safety, people, and doing the right thing. One of the first things I did when I started to become interested in working in Taylor was do some research about Canfor. After doing this and discovering that on a corporate level Canfor and I share a lot of the same values, I was all the more convinced that this company was worth moving across Canada for. Canfor's values are very strong and are shared not only on a large scale of the company, but shared by every person who works here. These values are posted throughout the mill and administration building as a reminder of their importance.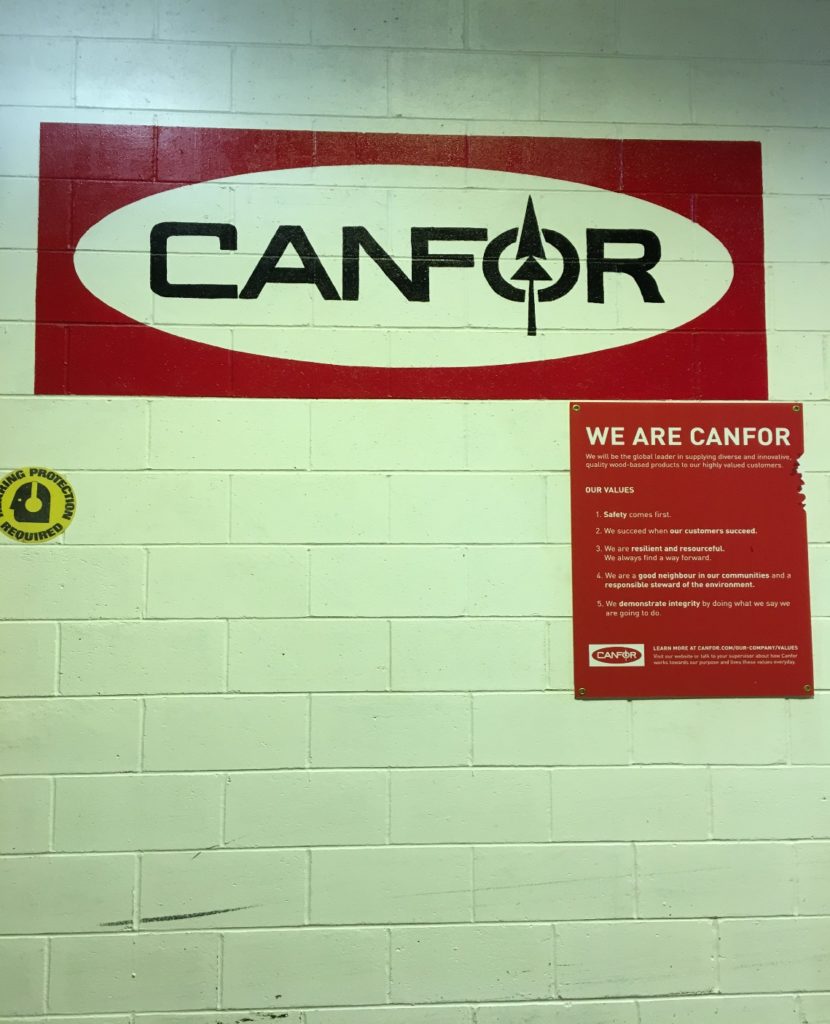 Our values at Canfor:
Safety comes first.
We succeed when our customers succeed.
We are resilient and resourceful. We always find a way forward.
We are a good neighbor in our communities and a responsible steward of the environment.
We demonstrate integrity by doing what we say we are going to do.
These values resonate deeply with me and I believe I share them as well. The individual people that I work with at the Taylor pulp mill are some of the best and most reliable people I have ever met, let alone had the honor of working with. From the day I started, I have been treated as a team member and due to the training I was given, I have never felt uncomfortable or unsafe in my work environment. This is extremely important for a young person starting their career in an industrial setting. Not only does Canfor put the safety of their workers first, it also holds a high regard for the environment. Canfor planted over 78 million trees in 2015 alone and believes in utilizing virtually 100 % of its trees, making it a very sustainable company. Throughout Canfor's history, the company and its employees have contributed to the communities they operate in and are pleased to do so. These few key things that Canfor believes in make it an amazing company to work for and the perfect place to start a career.
Canada 150
For Canada day this year, it was important for me to do something that made me feel extra Canadian. So, my roommate and I decided to head south to spend the weekend around Vancouver. We explored the city and took advantage of the great weather and natural beauty by hiking a few mountains. Vancouver is a beautiful city with the best of both worlds: the ocean and the mountains. Getting to swim in the ocean almost made me feel like I was in Nova Scotia! Here are a couple pictures from our trip.
Until next time!
Melanie