August 14, 2017 4:31 pm Published by Melanie Flack Leave your thoughts
Taylor's Capital Project
These last two weeks have been very eventful for Canfor Pulp! Canfor Pulp Ltd. announced on July 26th that it will be undertaking two capital projects – one of which will be happening at the Taylor Pulp mill. The capital project in Taylor aims to improve the efficiency of the mill by using less energy to produce the same amount of product. This announcement highlights very exciting changes for the mill, and the employees, and is an amazing opportunity for me to experience a capital project being planned.
See the full press release here: http://www.canfor.com/investor-relations/investor-news-press-releases/news-detail/2017/07/26/canfor-pulp-announces-northwood-and-taylor-pulp-mill-energy-projects
Engineering at the Pulp Mill
One of the reasons I am so excited about this project is because I have gotten to learn so much about how engineering design is done and how capital projects progress. The people at the Taylor mill have been extremely patient and understanding of the learning curve I had to go through while making the transition from university to the actual working world. Before starting my job, I had no idea how much of my schooling would be applicable and helpful in a practical setting. Luckily, I have an awesome supervisor who is willing to answer all of the questions I have (there are so many); and he has helped bridge my knowledge from school to being useful at the mill. Due to him being an amazing mentor, I have been able to progress my engineering skills and problem solving to a much deeper understanding than I ever could at school. I have been able to relate things in the mill to courses I've taken at university and this has helped me in every task I've been given.
Mount Temple, Lake Louise
Since I started hiking around BC and Alberta, my roommate and I have continued to increase our elevation goals. Up until last weekend, we had not reached the 11,000 foot barrier that haunted us, but we had gotten so close! As we are not mountaineers and do not have rock climbing gear and training, reaching our goal had to happen in a creative way – a 9 hour drive to Lake Louise to hike Mount Temple. Mount Temple is considered to be a difficult scramble to the summit with only a helmet required, so this was our best opportunity! This hike was estimated to take around 8 – 12 hours round trip so we had planned to drive to Lake Louise on Friday night, July 21st and hike the next day. Due to a series of unfortunate events, we were not able to reach the trail head in time to complete the mountain at a safe time. Instead of giving up and going home, we decided to do the hike extremely early on Sunday morning and drive home that night. A little crazy? Yes. Worth it? Definitely.
On Saturday we did the Plain of Six Glaciers Tea House Hike around Lake Louise and took in some beautiful sights.
On Saturday morning, we started the hike to the summit of Mount Temple around 6:30 am from Moraine Lake.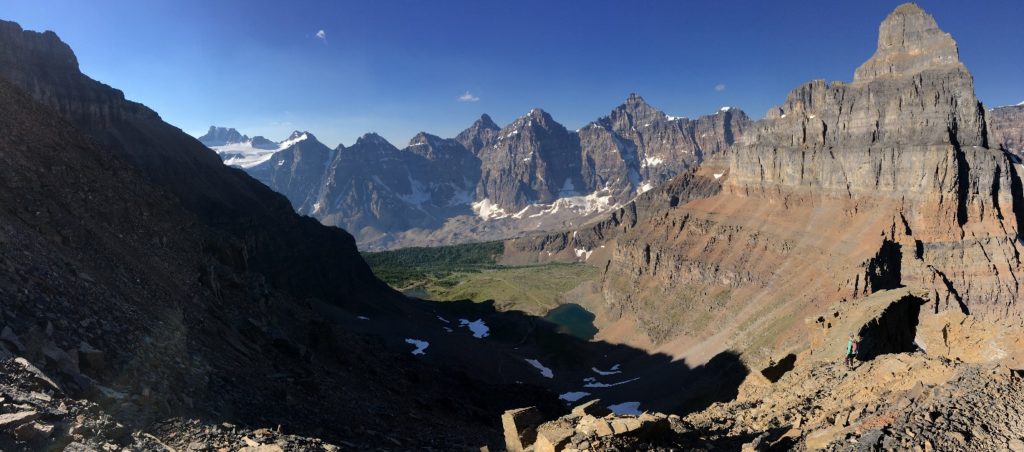 After about 5 hours, we reached summit, 11,627 feet above sea level! It felt so good!
After a long day, we finished the hike in 9 hours. Looking at Mount Temple from the ground was pretty intimidating, what an accomplishment!
Cheers!
Melanie