July 23, 2019 9:57 am Published by Bailey Robinson Leave your thoughts

Look at the beauty I found! During my inspections I have to get off my quad to look for safe ways around berms, floods, or washouts. On the day this photo was taken, I walked a path around a flooded/beaver dammed area looking for access to the rest of the road. While I was unsuccessful in finding the road, I did find many giant champion trees in that area including this massive Balsam Poplar pictured above. This particular specimen is still growing with resilience despite its age, deteriorating canopy, and wildlife damage. There were even fresh branches in the dead sections of the canopy that looked like new trees themselves. I love being able to find giants, or rare forest floor species but take comfort in knowing we will not be cutting such giants for various environmental and/or quality reasons. Over mature trees do not create good timber and have a legacy to carry on. The area surrounding this tree is a flourishing mesic ecosystem (moderate moist sites) between the bottom of a very large gentle hill and the Athabasca River where the diversity, abundance and size of so many species filled my heart with joy. I even shared information with my coworkers on a gorgeous hidden campsite on the edge of the river.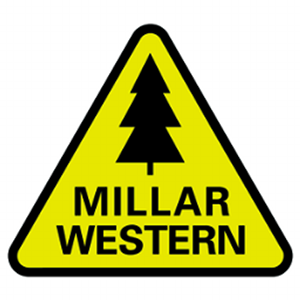 In addition to other than the obvious — plants, views, and learning experiences, one of the indirect benefits of working for Millar Western is the community of Whitecourt and all it has to offer.. Growing up north of Whitecourt, I had only ever experienced the highway through town and after my eldest brother moved his family here, the rotary park.. The town has many great local places to eat, but my most frequent favourite is Violet Mae's a local gem of a bakery next to our office that has got me through many bush days with their amazing fresh lunch items, the best breakfast sandwiches, and incredible homemade soups (a must for rain days! I have the soup schedule posted in my office). In addition to the great restaurants, Whitecourt holds many free events with music, activities and food trucks that happen in the Rotary Park throughout the summer (Groovy Foodie Fest July 25/26). There are also so many cool trails to hike and places to visit like the meteorite site, Hardluck Canyon, and an abundance of lakes and rivers for rec and fishing. I feel like I could live here for years and never see it all, but I feel so fortunate that in my position, I have the opportunity to explore so much more of the landbase than most.

I have had the pleasure of learning from Leah Disney, the company's most recent certified Registered Professional Forest Technologist (CONGRATS!!!) and the Landuse forester. Getting one's certification (RPF or RPFT) is no easy feat for a forester, requiring a set amount of relevant work experience and passing a very large professional exam. Having been through the process this spring, Leah is a generous mentor sharing her knowledge and even study notes with the next forester who is preparing to write the exam in November. On rain days, Leah has patiently taught me how to use and input data into LRM (Land Resource Manager program), how to glean info from landuse contracts, and some incredible helpful ARC map tools and tricks never taught in university. Although office days do not afford adventures like a bush days, they do offer new rewarding challenges that have improved my understanding of operations and planning in forestry. In particular, Ive learned to appreciate how much we work with other land users and industries. Leah is always a bright and welcoming person to interact with in the office and has been a big part of keeping us students busy and upbeat on (the sometimes rough) rain days. Her generosity extends past the bounds of the office, even "donating" old pots to me and my roommates for our patio garden and spearheading the reestablishment of the Whitecourt Paddling club for kayakers and canoers. I can't wait until I can find a kayak to join them!

Until next time, stay safe and be good humans to Alberta's forests.

P.S. Bonus picture of me with the first Balsam Poplar (Populus balsamifera) found next to the flooded area. It has visible fire scars and animal burrows, but is also still thriving. This pic was taken with my personal phone rather than the GoPro used for the previous picture above. Thank you FPAC and Greenest Workforce for supplying the GoPro — it has changed the forestry photography game!