June 25, 2019 1:26 pm Published by Bailey Robinson 1 Comment
I am happy to announce that, in the last two weeks since I've written, I have not gotten my feet wet, nor had either set of wheels stuck! I also proudly towed someone else out of a mess and had only a few nearly-stuck moments with my quad (thank you, winch). Some other exciting opportunities I and students from other departments have experienced include assisting with a grade 6 archeology dig day at the Whitecourt Forest Interpretive Center where a few kids actually found legitimate artifacts, and helping with the grade 4 Huestis Demonstration Forest Day where the classes participated in relays, tree planting and other activities. Sharing my passion for forestry with the future generations in a forestry town is always re-inspiring and I learned so much about archeology, what's involved and how our industries interact. Though the June rains have at times prevented access to areas, it has been a welcomed break from the heat during this fire season and a great opportunity to learn new skills in other departments like Landuse.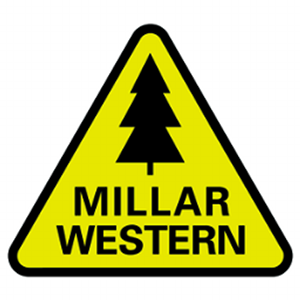 What do I do as a Roads Assistant that might get me stuck, you may ask? Well, come rain or shine, as long as it's not so wet as to be unsafe, I'm out on dirt roads. My job consists of three main components at this time (may include more later in summer); road inspections, stream crossing inspections (culverts, bridges, etc), and a noxious weeds program. The biggest reason for all three activities is safety. We are concerned about the safety of industrial and public road users, of course, but also have a strong focus environmental safety as a forestry company. On a typical bush day, once I arrive to the road I will be inspecting, which may be an all-season road or winter road, I make the decision to inspect by truck or ATV (usually ATV) and unload if necessary. Then, I gear up, usually with some music blasting, and check each piece of equipment (things fall out or need replaced/filled). I then set my tracks on my Avenza pdf map app to follow me then start my work. Each inspection includes a check: road surface for ruts, washboards, ruts; subsurface structures like stream crossing culverts and cross drains; ensure proper signage; and proper ditch function. I photograph and report any immediate or potential risks and also keep an eye out to record the presence and location of noxious weeds for the program mentioned (I used last year's records to design the Noxious Weed Program 2019, that will be starting soon).
When I inspect stream crossings, whether at an assigned crossing or just along the road I am inspecting, I am primarily concerned about the environmental impacts on watershed quality and potential fish passage. I use a specially design app to input culvert or crossing measurement, record my stream classification and measurements, take and log pictures, and check for potential erosion and sedimentation. Stream classification can be tricky, requiring a bush trek upstream beyond the zone of human influence to confirm the stream crossing is appropriate for its size and status. Appropriate for its size and status as a stream to us means, the size of a culvert or bridge is not at risk of a washing-out in a 100 year storm, a very serious risk to human, but also not at risk of impacting the ecosystem functions within the broader landscape. Whitecourt is a unique zone to consider while doing stream crossings inspections because it is at the confluence of two important large rivers, the McLeod and the Athabasca. Both rivers are fed by the tributaries I inspect, making my work so much more than simply filling out an inspection sheet.
I thought I would keep on theme from last blog and include a bit about the people I work with because, as I said before, it really is all about the people. The Millar Western Forest Protection crew took the stream-crossing training with me, so they could be prepared to assist me when fire risks are low. Jon Manderson is one of three fire crew members who are sent to ride along with me on sketchy roads or rain days, bringing their own trucks and ATVs. They have also been called to rescue me when stuck, or have odd jobs like creating access for me when I encountered a washed out quad bridge on a winter road. When they aren't doing smoke patrol or helping me, the crew's other priority is installing, maintaining and recording beetle trap finds for the Millar Mountain Pine Beetle Program. Jon and the other two fire guys are a blast to work with, but most importantly, I can confidently say I trust them with my life in the high-risk environment of a forest. We can laugh off getting stuck and wading through wetlands, but we also pride ourselves on properly assessing risks and making safe choices. Through all, Jon handles me nerding out about bugs and plants quite patiently (haha).
Until next time… stay safe and be good humans to Alberta's forests, please.
*And thank a wildland firefighter! The north isn't getting the rain they deserve.