June 10, 2019 3:10 pm Published by Bailey Robinson Leave your thoughts
A forestry student's favourite time of year is back! Summer student field season starts soon after finals the first week of May when we all spread out to forestry towns across the province and country to work for sawmills and contractors. I am very happy to be back in Alberta working for well-known forestry company; Millar Western Forest Products Ltd.
My name is Bailey Robinson and I got my start in forestry at Mercer International Inc., formerly known as Daishowa-Marubeni International Ltd., Peace River Pulp Division (DMI), where a large group of passionate foresters and an amazing work-experience convinced me to change my degree goals from Environmental Sciences to Forestry at the University of Alberta. That was one of the best decisions I have ever made. If you would like to hear about my time there and some of my reasons for falling in love with forestry, check out my Greenest Workforce blog from 2016. Since then, I have had the opportunity to do layout in Northern British Columbia in 2017 and assist harvesting in Northern Saskatchewan in 2018. These were amazing learning experiences that toughened me up, but also increased my confidence in becoming the future forester I aspire to be. This year, I am grateful for the opportunity to work in central Albert for Millar Western, a company I had heard so many good things about, with operations conveniently located in Whitecourt, AB between my family and friends in Peace River and Edmonton.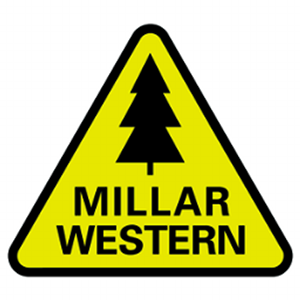 The first month at Millar Western was a whirlwind of new faces, laughter and training. Our first day of orientation started with an introduction to the standard missions and values, but also included a barbecue where we met, shook hands and ate lunch with almost everyone in Woodlands from admin all the way up to company president and CEO, Craig Armstrong. They immediately made all the students feel welcomed into the Millar family. After gearing up and receiving our trucks we completed training as a large group for ATV at a gorgeous acreage, fun Advanced Driving Techniques in a gravel pit with a former RCMP, and many more job specific sessions were covered. Our orientation also included more intimate safety meetings with staff including an incredibly honest and moving meeting with Woodlands Manager, Rob Stauffer. Rob talked about past minor and major safety incidents within Millar Western, his professional and personal life, to convey how important it is to everyone here to prevent further incidents. Establishing this line of communication in such a humble fashion relieves reporting stresses and makes talking about minor "oops''-s that much more comfortable. Many safety policies across industries are "written in blood", but Millar Western actively attempts to be ahead of such events and truly walks the talk. In this first month, I have not had one safety concern dismissed — that is something that I value and love about companies like Millar Western.
It really is all about the people here at Millar Western. The photo above is of me and the person I work with the most… my supervisor, Debbie Jones, an Operations Supervisor. It was taken on a fun, yet productive day (we did complete an inspection!), where we decided to check a trail that indicated the geographical center of Alberta. It was hilarious a trial of wrong turns, navigating around ATV ruts, and an ever more common occurrence, me getting my feet wet! As a student with the most solo position here, I might be a bit biased about having the best supervisor (as you can see from the photo there's a reason I'm earning the nickname "Mini Debbie" haha). But she never hesitates to join me or find me 'friends' when I need help or the safety risks call for the buddy system to quad old winter roads, etc. These 'friends' usually come from the student forest protection crew when the wildfire risk is low. I look forward to sharing our adventures through this blog, highlighting our shenanigans, providing some forestry tips and tricks, and giving insights into my own personal passions.
Until next time, stay safe and be a good human to Alberta's forests.
P.S. If you would like to keep closer eye on what I get up to this summer check out my Instagram where I will be posting pictures and videos to my feed and stories more frequently, https://www.instagram.com/lil.woodland.creature/.