July 5, 2017 12:59 pm Published by Lindsay Albers Leave your thoughts

West Fraser Timber Co.
West Fraser Timber has been around since 1955, which was 11 years after Canfor, 54 years after Weyerhaeuser, and 54 years before Conifex and Paper Excellence. Started in the quaint town of Quesnel, British Columbia, West Fraser Timber Co. consisted of a 12 person crew managed by three brothers. Sam, Bill, and Pete Ketcham kept up their legacy, where nearly six decades later their vision of a sustainable lumber company has grown to include over 40 mills in Canada and the Southern United States, with nearly 5,000 employees belonging to the West Fraser family.
(Pictured above: Where Lynx Creek meets the Pine River approx. 20km East of Hudson's Hope, BC.)
Divisions
Within Canadian borders, West Fraser's divisions circle either side of the Rocky Mountains. West Fraser currently operates one lignin processing plant, two NBSK pulp mills, two BCTM pulp mills, two veneer/LVL mils, two MDF plants, three plywood mills, and 28 lumber mills – feel free to get me to define all of those! The division I am part of this summer is Hinton Pulp or HIP for short. For a better visual on all of West Fraser's sites I have provided a site map.
Energy & Bioproduct Development
The department that I am part of at Hinton Pulp is the Energy and Bioproduct Development department. One of the newest departments to join West Fraser, the EBD is geared toward bio alternatives and coming up with new, exciting ways to produce, conserve, or avoid losing energy. Some of the latest projects from West Fraser's Energy and Bioproducts have resulted in the Organic Rankine Cycle Generators at Fraser Lake Sawmill and Chetwynd Forest Industries, the Biomethanization project at Slave Lake Pulp, and the latest Lignin Recovery Plant here at Hinton Pulp.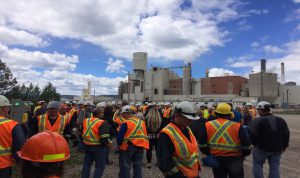 Smaller scale research has been dedicated to the transformation of waste materials, and is a portion of what I get to help develop this summer! Lots of hours in the laboratory doing mad scientist like things, recruiting innovative companies that have applications for these new materials, and then travelling all over BC and Alberta to find more materials and more ways to reduce, reuse, recycle and recreate!
The Coming Weeks
One of the highlights that I have this summer is being sent out on a mission to look at all of West Fraser's divisions. The intent of the trip is to try and get a feel for what's out there in terms of useable materials that we can transform into something better, or find a different use that has yet to be explored. Over the course of twelve days, I will be visiting 24 of the 40 West Fraser mills, travelling to two provinces, fifteen cities, and meeting tons of really passionate people who love their role in the Forest Industry.
A second project that I am really looking forward to is learning how to drone survey! That's right- drones! We've paired with an innovative geomatics company that has agreed to let me tag along as they survey Hinton Pulp, Hinton wood Products, and our shared off-site landfill. The intent here is to not only get some wicked aerial shots of our stacks and hog fuel piles, but to learn how to use laser based software that will measure heat on the piles, pile volumes, and take topographic surveys of our ever changing landfill are.
Weekend Shenanigans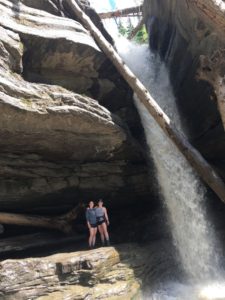 Although there is plenty of new faces to learn at work, I decided to venture out a little further and see if I could meet up with some of the other fellow scholarship winners. Things slowly fell into place last weekend, and I was able to meet up with Green Dream blogger Melanie Flack and her roommate Jenna Bozanis in Fort St. John. Melanie is an incredible young lady with a big heart and even bigger personality. The day before we met up, we each went to the Carbon Lake/ Battleship Mountain area for some day hiking, and probably passed eachother on the trail without even knowing it! On Sunday, I decided to treat both Melanie and Jenna to a Pine Pass road trip, with views they wouldn't expect from Ontario or New Brunswick. We hiked up to Commotion Falls, a 45min drive west of Chetwynd, and then hunted for fossils near the Pine River sandbars. The weather couldn't have been more beautiful, with a balmy 33C for the duration of the afternoon. Regardless, Canfor hired on a lovely, brilliant, young lady, and I look forward to meeting up with more of FPAC'S bloggers throughout the summer!
The adventures have begun,
Lindsay Albers